Headquarters
Sysmex Group Companies
Select your local website
CRC screening with FOB GOLD FIT
FIT for symptomatic patients (Rule-out-testing)
Symptoms such as rectal bleeding, unexplained weight loss, anaemia, abdominal pain and an altered bowel habit may be associated with CRC, but in most cases will have different causes. FIT detects blood in stool invisible to the naked eye and is an effective triage for physicians when determining which patients will most likely benefit from further invasive investigation.
For the testing of symptomatic patients in a routine lab, you would usually expect a low number of FIT samples. To meet these needs, you can place the patented universal FOBGold tube on your lab's clinical chemistry analyser. Considering economical as well as practical aspects, you may favour a dedicated faecal analysis system (SENTiFOB or SENTiFIT 270) in case of a higher workload. The FIT solutions from Sysmex offer you this freedom of choice.
Watch the video and discover the benefits of the dedicated faecal analyzer with a throughput of up to 1,250 samples per day. We recommend our SENTiFIT 270 analyser in combination with our SENTiFIT PierceTube.
Clinical Chemistry Systems
Clinical Chemistry Systems
In a clinical setting with low throughput needs for symptomatic testing, we recommend you to place the patented universal FOBGold open tube in your clinical chemistry platform. Thanks to the high stability of the buffer used in the sample tube, you can accumulate your FIT samples and process them in batches at a time convenient for your routine.
The benefit of this solution is that we offer everything you need to set up your FIT testing, without the need to invest extra money and space in a dedicated faecal analyser.
With your clinical chemistry analyser connected to your laboratory information system, you will ensure traceability, accompanied by the major benefits of quantitative results and standardisation of your FOBGold testing.
Validated CE-marked applications
Abbott Alinity C
Abbott Architect
Beckman AU680
Beckman Coulter AU series
BioMajesty JCA-6010/C
Roche Cobas c501/c502
Roche Cobas c701/c702
Roche Cobas Integra 400
Roche Modular / Hitachi 917
SENTiFIT 270
SENTiFOB
Siemens Advia 2400
Siemens Dimension
Dedicated faecal analyser
Dedicated faecal analyser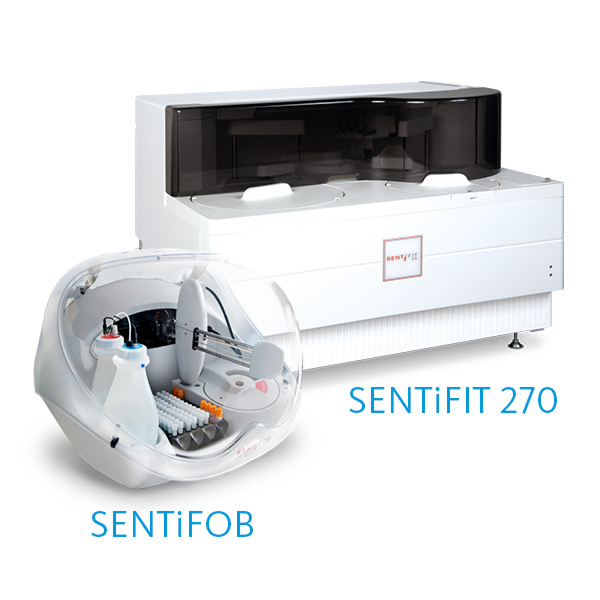 In clinical settings with a high volume of symptomatic patient testing, sample batching can be impractical, so in this case, we recommend using a dedicated faecal analyser. Sysmex suggests the SENTiFOB for up to 100 samples per day, and the SENTiFIT 270 for a higher number of samples or if you wish to combine the testing of faecal haemoglobin with that of other faecal parameters. Both SENTiFOB and SENTiFIT 270 are stand-alone solutions that work together with the patented FOB Gold pierceTube.
Note: For more information about other faecal immunochemical assays that are available on SENTiFIT 270, please get in touch with your local Sysmex representative.