Headquarters
Sysmex Group Companies
Select your local website
Plasma-SeqSensei™ Breast Cancer IVD Kit
Plasma-SeqSensei™ Breast Cancer IVD Kit
Highly sensitive down to 0.06% mutant allele fractions
Quantitative detection of six mutant molecules or more with 95% confidence
Fast turnaround time of two days
Convenient data analysis and reporting with IVD-certified software
Plasma-SeqSensei™ (PSS) assays enable highly sensitive and quantitative detection of mutations in circulating tumour DNA (ctDNA) from the blood plasma of patients with breast cancer by utilising next-generation sequencing technology. PSS's short and standardised workflow delivers results within two days including the generation of easy-to-read reports using laptop-compatible Plasma-SeqSensei™ IVD Software.
The kit covers key gene mutations such as AKT1, ERBB2, ESR1, KRAS, PIK3CA, and TP53 to detect established and emerging predictive markers, resistance mutations, and frequently occurring genetic alterations in breast cancer.
PSS Breast Cancer IVD Kit is intended to support clinicians with:
detecting minimal residual disease
recurrence surveillance
(neo-)adjuvant response monitoring
More details
PSS technology
Confident mutant reporting
To increase sensitivity and reduce error rates associated with sequencing, the PSS library preparation workflow employs SafeSEQ technology1. This technology assigns a unique identifier (UID) to each DNA molecule during the target selection step. UIDs help track and identify real mutations in samples and distinguish them from polymerase or sequencing errors. PSS detects 0.06% and higher mutant allele fractions (MAF) with 95% certainty in a background of 10,000 wild-type copies.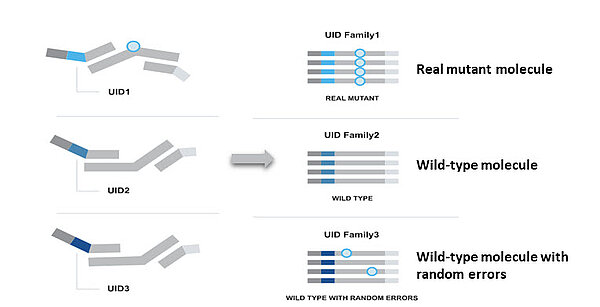 Beyond MAF – absolute mutant quantification
PSS technology utilises an internal quantifier Quantispike, which allows robust quantification of tumour-specific sequences over a broad dynamic range down to a limit of detection (LOD) of six mutant molecules. Additionally, absolute quantification reported as a number of mutant molecules detected in the tested volume of blood helps to facilitate a meaningful comparison of changes in ctDNA levels over time.
Plasma-SeqSensei™ IVD Software
PSS IVD Software offers the possibility to effortlessly plan and analyse sequencing runs and report data easily. It is the first IVD-certified software designed to run on an office PC or laptop – no workstation or server structure is needed. The interface is divided into three functional modules: run planning, data analysis and reporting. Automatically generated reports include sample metrics and mutation status, both listing MAFs as well as the absolute number of mutant molecules detected in the sample volume, alongside sequencing quality metrics.
References
Kinde, I., Wu, J., Papadopoulos, N., Kinzler, K. W., & Vogelstein, B. (2011). Detection and quantification of rare mutations with massively parallel sequencing. Proceedings of the National Academy of Sciences of the United States of America, 108(23), 9530–9535. https://doi.org/10.1073/pnas.1105422108
Technical specifications
| | |
| --- | --- |
| Feature | Plasma-SeqSenseiTM Breast Cancer IVD Kit |
| Sample type | Whole blood and plasma |
| Sample capacity | 2–16 samples per kit |
| QC function | Positive control and no template control (NTC) applied to every run |
| Compatible platforms | Illumina NextSeq 500/550™ |
| Input DNA required | 4.3–86 ng/116 µl |
| Number of amplicons | 28 |
| Sensitivity | 0.06% allele frequency at 95% certainty at 10,000 wildtype copies |
| Cut-off | 6 mutant molecules |
| Cat. No. | ZR150544 |
Gene targets
| | | | | |
| --- | --- | --- | --- | --- |
| Gene ID# | Transcript ID# | Coding sequence start | Coding sequence end | Most frequent mutations detected |
| AKT1 | ENST00000554581 | 47 | 69 | E17K |
| ERBB2 | ENST00000269571 | 907 | 947 | S310F |
| ERBB2 | ENST00000269571 | 2,308 | 2,36 | L755S, D769Y |
| ERBB2 | ENST00000269571 | 2,258 | 2,307 | V777L |
| ESR1 | ENST00000440973 | 1,108 | 1,143 | E380Q |
| ESR1 | ENST00000440973 | 1,378 | 1,42 | S463P |
| ESR1 | ENST00000440973 | 1,583 | 1,614 | D538G, Y537S/C/N |
| KRAS | ENST00000256078 | 8 | 43 | G12D/V/C/R/A/S, G13D |
| PIK3CA | ENST00000263967 | 254 | 278 | R88Q |
| PIK3CA | ENST00000263967 | 329 | 352 | K111E |
| PIK3CA | ENST00000263967 | 353 | 367 | G118D |
| PIK3CA | ENST00000263967 | 1,033 | 1,058 | E345K |
| PIK3CA | ENST00000263967 | 1,085 | 1,115 | P366R |
| PIK3CA | ENST00000263967 | 1,252 | 1,264 | C420R |
| PIK3CA | ENST00000263967 | 1,348 | 1,387 | E453K |
| PIK3CA | ENST00000263967 | 1611 | 1659 | E545K/A, E542K |
| PIK3CA | ENST00000263967 | 2,138 | 2,184 | E726K |
| PIK3CA | ENST00000263967 | 3118 | 3169 | H1047R/L |
| TP53 | ENST00000269305 | 144 | 232 | W53* |
| TP53 | ENST00000269305 | 293 | 375 | R110P |
| TP53 | ENST00000269305 | 376 | 423 | C141Y, C135Y |
| TP53 | ENST00000269305 | 451 | 537 | R175H, H179R |
| TP53 | ENST00000269305 | 574 | 659 | R213*, Y220C, R196* |
| TP53 | ENST00000269305 | 695 | 782 | R248Q/W, G245S |
| TP53 | ENST00000269305 | 783 | 856 | R273H/C, R282W |
| TP53 | ENST00000269305 | 888 | 919 | R306* |
| TP53 | ENST00000269305 | 920 | 993 | Q331* |
| TP53 | ENST00000269305 | 994 | 1,08 | R342* |
Contact
Bornbarch 1
22848 Norderstedt
Germany
Explore more