Headquarters
Sysmex Group Companies
Select your local website
The establishment of an anaemia outpatient clinic at St. Marienhospital in Vechta, Germany, under the direction of PD Dr med. Hönemann has had very positive results. In this interview, the expert gives first-hand insights into everyday clinical practice.
In addition to the many other tasks, the anaemia clinic is also part of the field of anaesthesia/intensive care medicine − why?
It is crucial that the patient is optimally prepared at the time of the procedure (surgery). Even a normal Hb decreases 48 hours post-op. Latent iron deficiency causes real problems in intensive care. Anaemia patients have a significantly longer length of stay and considerably more wound infections. It is therefore extremely important that anaemia is treated before surgery. It is necessary for more and more doctors to recognise and treat anaemia as a separate condition − instead of merely detecting it incidentally.
RET-He determination has proven itself successful in your department, especially for the anaemia outpatient clinic and patients in intensive care. How do you use this parameter?
We are very grateful that the laboratory has actively drawn our attention to this parameter, which we did not even know about until some time ago. RET-haemoglobin is independent of acute and chronic inflammation and shows immediately and directly whether there is an iron deficiency.
In fact, we only measure this parameter − saving time-consuming and expensive diagnostic tests. The particular advantage is that the result is available after a very short time. I take the blood myself and go to the laboratory with it. I can then advise the patients in the outpatient clinic immediately, for example, whether they only need erythropoietin for red blood cell production or whether they are lacking in iron.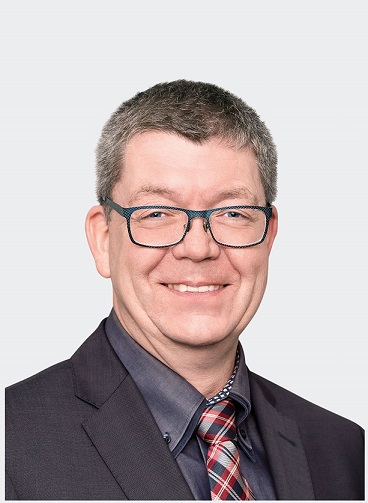 PD Dr. med Hönemann
Can you explain the significance of the parameter using a practical example?
Yes, in the case of a patient with a haemoglobin of 11 g/dL and decreased reticulocytes, but with a high RET-He, I immediately know that I can achieve an even better outcome for them in surgery with a little erythropoietin. RET-He immediately informs me that there is currently enough iron available and only a little stimulation is missing for new blood formation.
In another patient, for example, who initially showed a Hb of 7.8 g/dL and RET-He of only 18 pg, IV iron and EPO replacements were required. After just under a week, the Hb increased slightly, but RET-He still showed borderline values, and it was immediately obvious which measures had to be taken.
This superb parameter makes the treatment much easier for me to control.
RET-He is measured in the reticulocyte profile on the haematology system. Is this not expensive?
Reticulocytes are comparatively quite cheap! Determination of serum iron is usually irrelevant; ferritin and transferrin saturation or even hepcidin are much more expensive.
With reticulocytes and RET-He, I have the advantage that they report the quantity and quality of the reticulocytes excellently – and also that from the last three days too! And if you can put that in relation to the Delta-He parameter, as it is also offered by the "Haemaplot" diagnostic tool, for example, that is a great help.
From your point of view, what is the greatest benefit that the parameters bring to you in everyday clinical practice?
To be able to monitor the success of my treatment within three days is perfect!
For general practitioners, this could also mean that they can assess much more quickly whether oral iron administration is working for the patient or, if not, whether intravenous iron replacement is necessary.
Studies show that in the case of preoperative anaemia, treatment with IV iron can reduce the length of the inpatient stay by three days.