Headquarters
Sysmex Group Companies
Select your local website
CALiaGold
Quantitative latex immunoassay for calprotectin measurement
Particle-enhanced turbidimetric immunoassay (PETIA)
Established cut-off in IBD diagnosis and monitoring
Measuring range from 22 to 2200 µg/g
The easiest and quickest procedure for faecal calprotectin quantification
Calprotectin is released in cases of gastrointestinal (GI) inflammation due to degranulation of neutrophil granulocytes in the bowel mucosa. It accumulates in the faecal material and is excreted from the body, being extremely stable.
The faecal calprotectin (fCAL) test offers a non-invasive option to assess for localised inflammation, highly sensitive for detection of intestinal inflammation, and therefore helps the differential diagnosis of inflammatory bowel disease (IBD) versus irritable bowel syndrome (IBS). fCAL outperforms markers for general inflammation such as C-reactive protein (CRP) or erythrocyte sedimentation rate (ESR) as it is both more sensitive and more specific.
CALiaGold is a new assay from Sentinel Diagnostics' FIT line for calprotectin measurement in human faeces. CALiaGold is a particle-enhanced turbidimetric immunoassay (PETIA) for automatic quantification of faecal calprotectin in SENTiFIT 270 Analyser.
CALiaGold brings true convenience to patients, clinicians and laboratory professionals. CALiaGold on SENTiFIT 270 Analyser is the easiest and quickest procedure for calprotectin automated quantification.
Advantages for the laboratory
Easy, hygienic, safe. – Pierceable 2-in-1 concept tube for standardised sample collection and calprotectin extraction. Stable calprotectin 3 days up to 28°C and 6 days 2-8°C.
Simple and reliable. – from sampling to analysis. No further sample manipulation; eliminates the need to use a dedicated extraction device.
Fast – Reagents ready-to-use. Easily identify patients due to barcode on the tube label. First result available in 12 minutes, next results every 13 seconds.

CALiaGold® and SENTiFIT® are trademarks in various jurisdictions, which are exclusively licensed to Sentinel CH. SpA. www.sentineldiagnostics.com
More details
Clinical value
IBD/IBS differential diagnosis
Negative fCAL => low chance of having bowel inflammation (high negative predictive value, NPV), excludes IBD as a diagnosis.
Elevated fCAL => consistent with the presence of GI inflammation, needs further investigation with endoscopy and histology. No single test is specific enough to diagnose or rule-out IBD.
Disease activity
Normalisation of fCAL levels can be an indicator of effective treatment and achievement of mucosal healing.
Prognostic
Rising fCAL can predict an imminent clinical relapse of IBD allowing prompt initiation of treatment.
fCAL can be effective for management of colonoscopy resources, demonstrates to be a non-invasive and accurate assay for monitoring disease activity and response to treatment, and can be a prognostic tool for clinical relapses.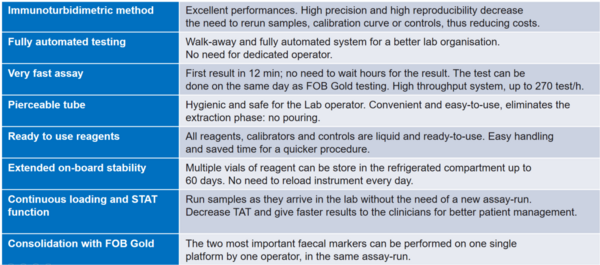 Contact
Bornbarch 1
22848 Norderstedt
Germany
Documents
Product documents
Regulatory Documents
Regulatory documents, such as Instructions for Use, can be accessed with a valid My Sysmex login:
Go to My Sysmex
Explore more