Select your local website
Resistant bacteria in Japan and what the future might hold
Interview
Prof. Dr Shingo Yamamoto is the Head of the Urology Department at the Hospital of Hyogo College of Medicine in Nishinomiya, Japan. He is also a Vice Director of the kidney transplantation centre. He outlines the current status of AMR (antimicrobial resistance) in Japan and future measures that are needed to fight it.
Prof Dr Shingo Yamamoto warns of the rapid increase of resistant bacteria in Japan that has occurred over the last decade, with a focus on urology. There are two strains of resistant bacteria in Japan that worry Prof Yamamoto the most – quinoline-resistant bacteria and extended-spectrum beta-lactamase (ESBL). Quinolones are broad-spectrum antibiotics that treat typical bacterial infections and are becoming less and less effective for uncomplicated infections such as urinary tract infections. Overuse of these antibiotics is thought to be a major factor in the increase of resistant bacteria.
Cystitis (inflammation of the bladder) is typically an uncomplicated infection that was easily treated in the past. In Japan today, however, oral antibiotics such as cephems and quinolones that once treated cystitis are now ineffective for some people. Prof Yamamoto explains that cystitis was treated with one of these drugs, and if one was ineffective, the other usually worked. Unfortunately, both drugs became ineffective around the same time, making treatment options much more complicated. When these antibiotics are ineffective, it is possible that patients experience a more complicated and severe urinary tract infection down the road.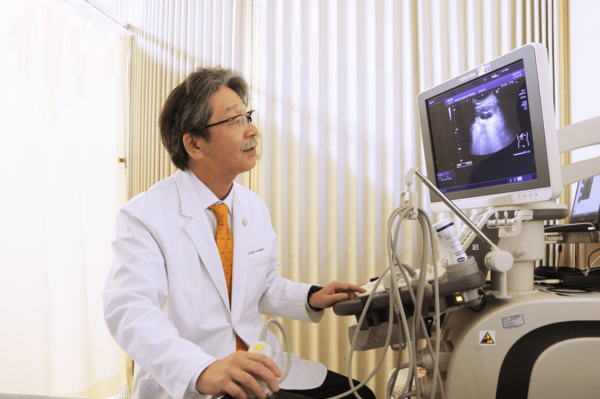 Present research and future measures
Currently, Prof Yamamoto and his team are analysing the gene sequences of resistant strains of E. coli. Using next-generation sequencers, they have obtained the sequences of the entire genome, which will help them deepen the understanding of genetic changes in the process of AMR (antimicrobial resistance).
It is also suggested by Prof Yamamoto to utilise more specific examination procedures as much as possible to distinguish bacteria morphology, such as shape and gram type. Based on what is found in diagnostic tests, in addition to information about patient age, it's still possible in some cases to treat uncomplicated infection, e.g. UTI, with first-line antibiotics such as quinoline, cephem or penicillin. This is why the next important step is to facilitate testing that can quickly and reliably detect the type of bacteria and its susceptibility to the specific antibiotics.
What is expected from diagnostics companies
Prof Yamamoto again emphasises checking the form of bacteria or morphology before prescribing antibiotics. He states, "I think doctors who are not specialised in urology often judge the presence or absence of inflammation and bacteria by white blood cell reaction or nitrite on the urine test strips. […] Even if you are not a specialist, a doctor who can often diagnoses cystitis should use more specialised testing."
To be able to facilitate this transition to more in-depth examination at a large scale, Prof Yamamoto suggests that analysers using flow cytometry may be very useful. He mentions the Sysmex UF-Series in particular, and that such devices should be introduced from the level of large hospitals as well as general practitioners with smaller practices. There especially need to be solutions that are quick and budget-friendly – this will make it easier for general practitioners to transition on a first-contact level.
By improving what already exists on the market and through innovations that make it possible to detect antibiotic susceptibility in a short amount of time at the GP level, Prof Yamamoto is confident we will be able make a significant difference in patient management and fighting AMR.