Select your local website
The microcytic (MicroR) and macrocytic (MacroR) red blood cell populations
Why microcytic (MicroR) and macrocytic (MacroR)?
In certain diseases, such as myelodysplastic syndrome, patients may have an MCV value that is within the reference range despite having an increased MicroR or MacroR. The parameters MicroR and MacroR are therefore useful to narrow down the possible causes of anaemia.
The parameters MicroR and MacroR are new diagnostic reportable parameters on XN-Class analysers and part of the complete blood count (CBC).
How are microcytic (MicroR) and macrocytic (MacroR) measured?
Red blood cells (RBC) and platelets (PLT) are counted in the RBC/PLT measurement channel using the sheath flow DC (direct current) detection method. Hydrodynamic focussing is used so that only single cells pass through the detector, and the resulting RBC size distribution shows a nearly Gaussian distribution.
Values for the MicroR and MacroR parameters are obtained from either end of the RBC histogram. The RBC histograms of samples with microcytic RBC are shifted to the left and often exhibit a shoulder on the left due to an increase in small RBC. In contrast, samples with macrocytic RBC generate histograms exhibiting a longer slope on the right. By applying two distinct discriminators at the lower and upper area of the histogram, a microcytic and a macrocytic population of red blood cells can be determined, and the resulting parameters reflect the microcytic (MicroR) and macrocytic RBC (MacroR) as a percentage of all red blood cells.
---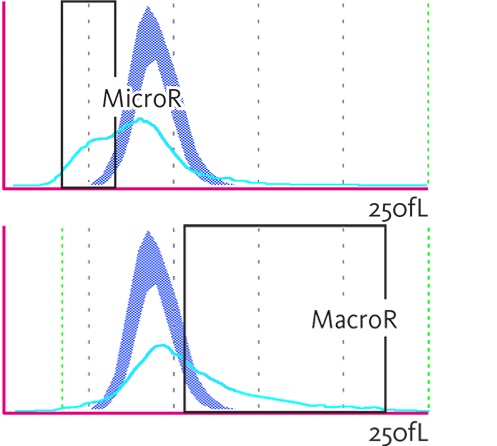 ---