Select your local website
The parameter Delta-He reflects the difference between the haemoglobin equivalent of reticulocytes (RET-He) and the haemoglobin content of mature red blood cells (RBC-He) measured in the RET channel in XN-Series and XN-L Series analysers. Under physiological conditions, the value of the diagnostic parameter is positive since the haemoglobin content in reticulocytes is higher than in mature red blood cells.
In case of microbial invasion, the host can rely on the millions-year-old defence processes. Cytokines, such as interleukin-6, are released; the acute-phase protein hepcidin is also released, leading to the internalisation of receptors for iron transportation. Consequently, iron trapped in the cells is no longer available for erythropoiesis and haemoglobin production. This results in newly-formed hypochromic reticulocytes.
The haematological parameter Delta-He can measure intracellular iron deficiency in a highly sensitive and accurate way. Negative values are resulted from lower haemoglobinisation degree in newly-formed reticulocytes compared to mature RBC.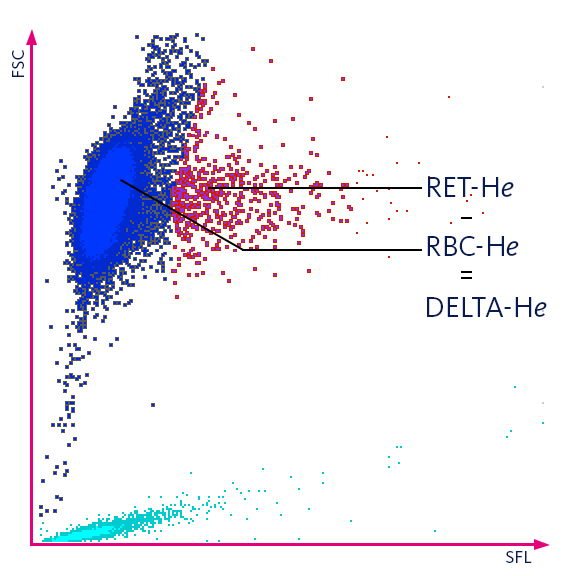 Furthermore, insufficient iron for erythropoiesis indicates an ongoing infection because it is locked in the cells. Therefore, Delta-He also indirectly reflects the activation of monocytes or macrophages (microorganism-induced iron trapping).
Benefits of Delta-He
Fast monitoring of infectious processes
Early and sensitive marker for an onset of intracellular iron deficiency
Readily available from a routine laboratory analysis of EDTA blood samples
You might also be interested in ...