Select your local website
The complete blood count application 'CBC'
Analysing the complete blood count – or full blood count – on Sysmex's XR-Series and XN-Series haematology analysers consists of a cytochemical reaction of the cells with specific, proprietary reagents, followed by analysis using fluorescence flow cytometry (WBC and NRBC), impedance measurement with hydrodynamic focussing (RBC and PLT), cumulative pulse height haematocrit measurement, and non-cyanide SLS haemoglobin measurement.
In fact, this application delivers more than just a CBC: Because it is clinically important, XR-Series and XN-Series determine nucleated red blood cells (NRBC%, #) invariably in routine diagnostics with every CBC. The metrological separation of WBC from NRBC enables correct and reliable white blood cell counts, at high as well as very low cell concentrations, and so replaces the need for manual white blood cell count correction.
CBC analysis provides the classical eight parameters plus absolute and percentage counts of NRBC, additional parameters for platelets and red blood cells including the ratios of microcytic and macrocytic RBC, respectively, and flag information in cases of abnormalities.
WBC and NRBC analysis with fluorescence flow cytometry
First, the cell membrane of the white blood cells is perforated, during which the cells remain intact, as far as possible. Then, the intracellular nucleic acids are labelled with a specific fluorescence marker. For the NRBC, the cell membrane is completely lysed and only the nucleus is labelled.
The sample is then analysed using fluorescence flow cytometry. The measurement signals related to forward scatter (FSC), side scatter (SSC) and side fluorescence (SFL) are analysed and depicted in a scattergram. Cells with similar cytochemical properties fall within the same area in the scattergram and can be separated using an advanced software algorithm. Even when NRBC are present, they do not interfere with the white blood cell count. On the 2D scattergrams, the cells are displayed based on their nucleic acid content, internal complexity and their size. Alternatively, you can view the 3D scattergram (XR-Series only).
XR-Series uses signals from the scatter of laser light at two angles (FSC and SSC) and fluorescence signals (SFL). Each detected blood cell has its individual x-, y- and z-coordinate values representing the FSC, SSC and SFL signal, respectively. Using advanced algorithms, XR-Series is able to identify and cluster cell types, especially abnormal cells, by their size, internal complexity and DNA/RNA content. The result of this analysis is reflected in the 3D scattergrams, which can be rotated in every direction to inspect the cell populations from different angles.
Benefits for laboratories and clinicians
Sysmex XR-Series and XN-Series offer a comprehensive range of parameters and interpretative messages that provides valuable information to support treating clinicians in diagnosing and monitoring their patients.
The routine determination of NRBC with every CBC in conjunction with the low sampling volume of 88 μL on XR-Series and XN-Series analysers is particularly helpful with neonatology samples.
For critically ill patients under monitoring on intensive care units, the routine determination of NRBC with every CBC can help early recognition of additional critical developments, even at low cell concentrations from 0.1 /100 WBC, as published independent studies* could show.
Thanks to the routine NRBC quantification in all of the measurement profiles, a reflex test is no longer necessary. This eliminates the need for a new analysis and can therefore reduce the turnaround time significantly.
Correct white blood cell counts save smear preparation and manual counting, particularly during the blood analysis of neonates, and reduce sources of potential errors. As a result, the work process is both accelerated and standardised. This leads to an improved comparability of the results.
* For references to peer-reviewed publications, please visit our publications or contact your local Sysmex representative.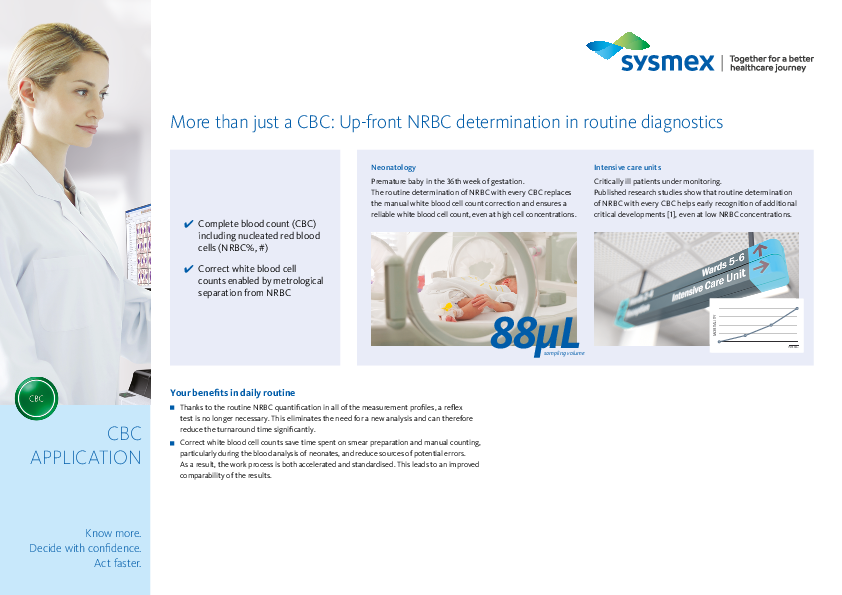 More than just a CBC: Because it is important – determining NRBC up-front in routine diagnostics
The lab information card illustrates the value of XN-CBC and points to the advanced clinical parameter NRBC (nucleated red blood cells). The front side addresses the lab and clinical benefits, the flip side contains technical information