Our strategy is shaped and influenced by various elements. Above all, our mission, our vision and our values shape our daily actions and our strategic direction. But our corporate philosophy, the Sysmex Way, also has an influence. Here you can learn more about our business strategy.
Our mission, vision and values
In recent years, we have seen an ageing population and increasingly diverse healthcare needs in industrialised countries and a growing population and rapid advances in healthcare infrastructures in emerging economies. Testing and diagnostics have become more important because of their role in disease prevention and healthcare. Our mission is therefore to shape the advancement of healthcare with our knowledge and products.
We believe that technological excellence must go hand in hand with a deeper understanding of diagnostics as a whole. Applying our knowledge and experience, we create unique solutions and continuously develop our product and service portfolio.
Healthcare is a journey. We are committed to work together with healthcare professionals, patients, and all stakeholders to deliver the best possible outcomes. This collaboration combined with our multi-functional solutions, our reagents and our service and support lead to our goal, to work together, to cover the entire patient pathway and to make that journey a little easier by providing best possible care.
This is the core value behind our corporate message: Together for a better healthcare journey.

Sysmex will continue to drive innovation in testing and diagnostics as important functions within the healthcare journey, collaboratively creating unique values in the areas of personalised medicine and novel treatments. As a provider of individual lifetime "healthcare journey", Sysmex is committed to use its proprietary technologies and solutions in better and better ways.

We will continue to grow as a sustainable company creating social and economic value, providing a greater sense of security among people and the society in which they live
The "Sysmex Way" comprises three elements: the Mission, which establishes our societal purpose and outlines how we aim to contribute to society; the Value, which describes the principles and management approach we must adhere to; and the Mind, which articulates the mindset and code of conduct that all employees within the Sysmex Group are expected to follow. Additionally, "Shared Values" declares the specific value we provide to each stakeholder.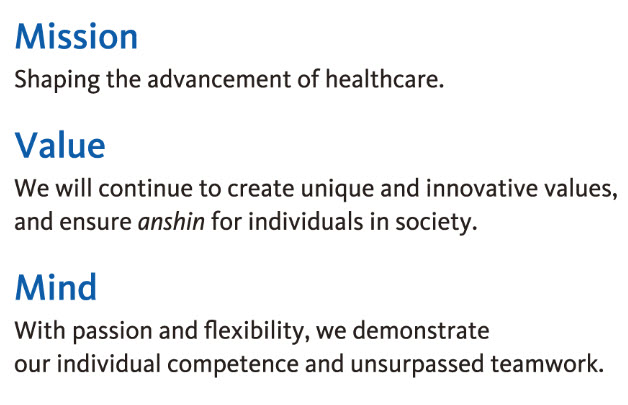 Ensure anshin with unmatched quality, advanced technology, mindful support, and actions that reflect the needs of our customers.
We constantly seek to better understand what our customers require so that we may generate new and more satisfactory solutions.
Ensure anshin by honoring a diversity of employees, respecting their personality, and providing a workplace where they can fulfill their potential. We value independence and a challenging spirit, provide employees with opportunities for self-fulfillment, growth, and reward for their accomplishments.
Ensure anshin based on fairness and impartiality in a broad range of partnerships. We strive to grow as a company in step with our business partners through respect and mutual trust.
Ensure anshin by promoting the proper disclosure of information and keeping closer communication with shareholders with sound and transparent management. We are committed to an innovative yet consistent style of management for sustainable growth and increased shareholder value.
Ensure anshin as a responsible member of society by conducting our business adhering to the highest ethical standards in addition to laws and regulations. We play an active role in addressing environmental and other issues facing our society.
---
Anshin is a word at the core of the Sysmex corporate philosophy that embodies the essence of what we have been pursuing since our foundation, and has the following meanings;
A state in which customers have no concerns about the safety and quality of our products and services.
A state in which stakeholders can trust, be confident and reassured in our relationship, transactions, interaction, and all other matters.
A state in which individuals in society can be in a calm state of mind with little or no anxiety about their own health, lives, or other matters.