Headquarters
Sysmex Group Companies
Select your local website
17 April has a colour: It is red. Because 17 April is World Haemophilia Day (WHD).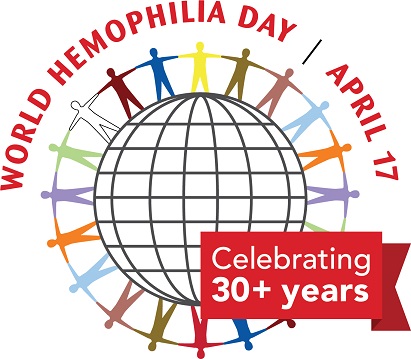 The colour 'red' instantly signifies associations such as 'danger', 'stop!', or even 'blood'. All of which are quite true when thinking of haemophilia. Sysmex Europe SE joins the World Federation of Hemophilia's (WFH) Light it Up Red! campaign by tinting its office lights in red to mark the day and increase awareness of bleeding disorders.
Haemophilia is a severe bleeding disorder which can become life-threatening if not recognised and dealt with at the earliest possible time. To save people from experiencing such a critical situation and reduce their personal risk by appropriate medical care, this awareness day is about increasing the understanding and awareness of haemophilia, von Willebrand disease, and other inherited bleeding disorders in the population at large.
Your knowledge of haemophilia can help identify affected individuals near you, which matters since it will lead to better diagnosis and access to care, ultimately helping people to live with this bleeding disorder.
According to the WFH, there are millions of affected people who are currently without treatment. Therefore, a key issue of the WFH is reaching out and identifying new members of the bleeding disorders community and making access to adequate care possible everywhere in the world.
'GET+INVOLVED '
2020 marks the celebration of the 30th WHD. A perfect point in time to raise your own awareness and knowledge of haemophilia, and support the health of yourself, your loved ones and others around you by learning, joining in and acting with #WorldHemophiliaDay.
Think 'red', think 'haemophilia'. Today. Now. And in future.
Haemophilia is an x-chromosomal, inherited bleeding disorder caused by a partial or complete deficiency of the coagulation factor VIII (FVIII), so-called 'haemophilia A', or coagulation factor IX (FIX), the haemophilia B, leading to a prolongation of the clot formation process. In comparison with von Willebrand disease, far fewer people are affected by haemophilia. With a prevalence of 1:5,000 neonates, haemophilia A is more frequent than haemophilia B, which appears in 1:25,000 neonates, while von Willebrand disease has a prevalence in one percent of the overall population. Haemophilia affects mainly males while females usually act as carriers of the chromosomal defect. Mutations in factor genes, however, might also affect females, who will then show bleeding tendencies.
Haemophilia is the most frequent haemorrhagic medical condition in children, with significant haemorrhage risks, which can be life-threatening in the absence of immediate treatment. Therefore, laboratory assays play an important role in the detection and management of haemophilia.
The care management of haemophiliacs is changing with the emergence of new treatments. The new therapeutic areas make it necessary to review the present biological and clinical monitoring, where chromogenic FVIII and FIX assays have the advantage of a more homogeneous reactivity to the various FVIII or FIX products available. Depending on the situation, assays with different principles should be considered.
Sysmex offers a complete product portfolio for haemophilia diagnosis and management, which ranges from screening to specialty assays including chromogenic FVIII and FIX assays.
You are welcome to find more information on haemophilia and our solutions in two SEED articles freely available for download from our SEED page.