Urinary tract infection (UTI) at the point of care
Urinary tract infections are accountable for millions of medical consultations and put significant burden on healthcare systems and societies [1]. Since proper UTI diagnostics is time consuming, clinicians often face an information gap where diagnostic information is not available, but treatment options are requested. Often, this results in the empiric prescription of antibiotics, even though up to 80% of suspected UTI cases turn out to be negative [2]. Here, innovative technology can help to close this information gap and to improve clinical decision support in the doctor's office and in the hospital.
Rule out UTI in less than a minute with modern diagnostics
The infographic illustrating the gold standard of urine test strip analysis vs. urinary particle analysis and the features of each.
Hospital
Urinary tract infections in hospital settings
UTIs are one of the leading nosocomial infections, with past investigations reporting UTIs to account for up to 40% of all hospital-acquired infections (HAI) [3]. Catheterisation especially is a main driver of the onset of catheter associated UTI (CAUTI) and can thus complicate treatment at the ICU. As treatment decisions can be time-critical, having a fast and accurate way to distinguish between HAIs and inflammatory conditions is of the utmost priority.
Innovative fluorescence flow cytometry approaches allow the exclusion of a HAI such as the UTI or highlight suspected bacteriuria in less than a minute.
Doctor´s office
Urinary tract infections in the doctor's office
The high incidence of UTIs and suspected UTIs in combination with the time-consuming nature of proper UTI diagnostics often results in the empiric prescription of antibiotics without diagnostics, requiring later therapy adjustments and fostering antimicrobial resistance (AMR) [4].
The response time for UTI negative samples can be significantly reduced through urinary flow cytometry and the possibility to exclude a UTI in less than a minute, helping to reduce the prescription of antibiotics in context of UTI-like symptoms with absence of bacteriuria, thereby fighting AMR [5].
For confirmed cases of bacteriuria, flow cytometry can provide additional information on the Gram status of the detected pathogens. This can enhance the diagnostic process by supporting direct antibiotic susceptibility testing (dAST), especially for Gram negative infections. This improves the response times for antibiotic profiles and can allow a same day initiation of antibiotic treatment [5].
A look into the future of addressing UTIs and antibiotic use
A patient searching for relief from UTI-related malaise, added to the time-consuming diagnostics for appropriate clinical decision making, creates a dilemma in clinical practice, leading to antibiotic treatment of individuals without proper diagnostics [4]. A recent study revealed that patients prefer convenience and confidence of diagnostic approaches instead of speed in context of AMR [6].
To shape the advancement of healthcare we are aiming to build a bridge between the laboratory and clinicians through diagnostic technology. Diagnostic information must be accessible and understandable at all levels along the clinical decision pathway to allow quick and confident decision support for the treatment of UTI. This will improve the clinical dilemma as well as the patient experience and address the growing impact of AMR through targeted antimicrobial treatments.
One example is antibiotic susceptibility testing (AST), which is performed to identify which antimicrobial regimen is specifically effective for individual infections. There are newer technologies under development to improve and speed up the AST process. One way this is happening is by measuring the growth rate of bacterial cells in real time through microfluidics and image analysis methods. A sample is loaded onto a microfluidic chip and any bacteria present are caught in bacteria-sized traps. The trapped bacteria are monitored, whereby the loading time gives an estimate of the density of bacteria in the sample. Bacterial growth is monitored in each trap, some of which contain a candidate antibiotic. The average growth rates are calculated in real time and the bacteria are considered susceptible if its growth is duly inhibited.
Lab personnel are typically spending up to 40% of their time on suspected UTIs when considering all requested cultures. And despite its costly and time-consuming nature, urine culture remains the gold standard in UTI diagnostics. This workflow can clog up resources in the laboratory as well as cause a gap in communication between the lab and clinicians. As stated previously, 80% of suspected UTI samples turn out to be negative, therefore a fast and reliable method to exclude UTIs can be a driver for laboratory workflow improvements and antimicrobial stewardship.
Beyond urinalysis
AMR – Learn more about antimicrobial resistance and Sysmex's commitment to fighting it across the globe. Become an #AMRfighter with us!
Check out some of our other scientific content to immerse yourself even deeper into the topic of UTI and other related issues.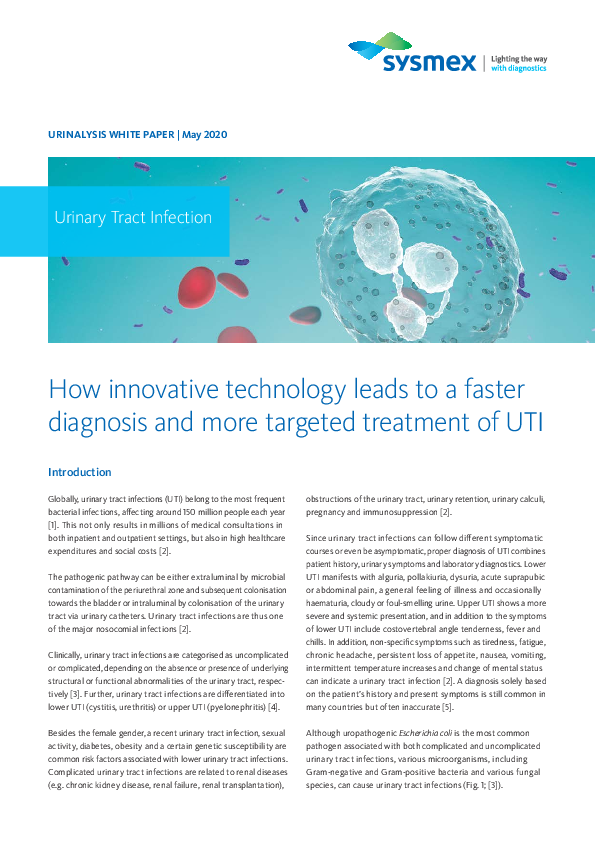 How innovative technology leads to a faster diagnosis and more targeted treatment of UTI
Urinary tract infections (UTI) belong to the most common bacterial infections and, though suspected cases often turn out to be negative, contribute to high laboratory workloads and empiric prescription of antibiotics, a main driver antimicrobial resistance (AMR). This white paper reviews the strengths of the UF-series in ruling-out UTI, supporting its diagnosis and potential applications to further optimise the UTI laboratory workflow, aiming to fight AMR.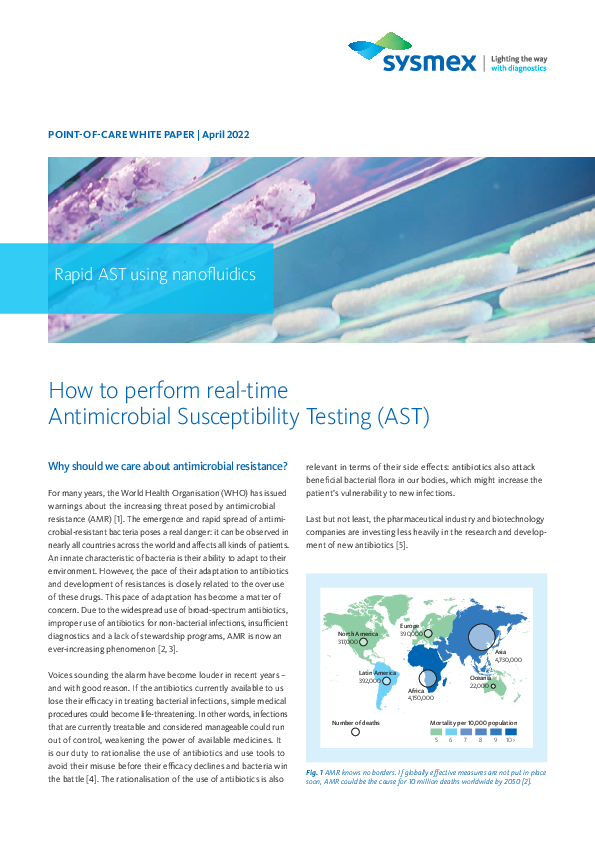 How to perform real-time Antimicrobial Susceptibility Testing (AST)
Diagnostics play a major role in the rational prescription of antibiotics. Well-known antimicrobial susceptibility tests (AST) are reliable tools for the phenotypic determination of resistance to antibiotics [6]. Several solutions to support AST performance are available on the market.