Anita's story: a life-long fighter, superhero and metastatic breast cancer survivor
Anita's story begins in May 2019 when she first noticed a bruise-like blemish on her left breast. As a self-proclaimed clumsy person, she chalked it up to a simple injury that she maybe hadn't noticed earlier. But after about a week of it getting darker instead of lighter, she knew it was necessary to get it checked out, so it was off to the gynaecologist.
The gynaecologist told Anita she didn't feel any lumps but wanted to send her for a mammogram to ensure everything was in order. As she was only 36 years old, the clinic was hesitant to perform a mammogram. She was sent home on the Friday and was told to return on the Monday morning. On Monday morning, a mammogram was performed where they discovered Anita's lymph nodes were enlarged so they did an ultrasound. This was concerning to Anita as she only expected the mammogram. Then came the initial verdict – they were 99% sure she had breast cancer from the mammogram and ultrasound alone but wanted to do a biopsy as soon as possible to confirm. And sure enough, a few days later the suspicion was confirmed: Anita had inflammatory breast cancer.
Although Anita has a strong familial history with cancer, it was still a huge shock. She has seen her aunt battle breast cancer and saw two grandparents taken by different forms of cancer. Unfortunately, her grandmother passed away only hours before her wedding, so she was already familiar with the toll that cancer can take on a family.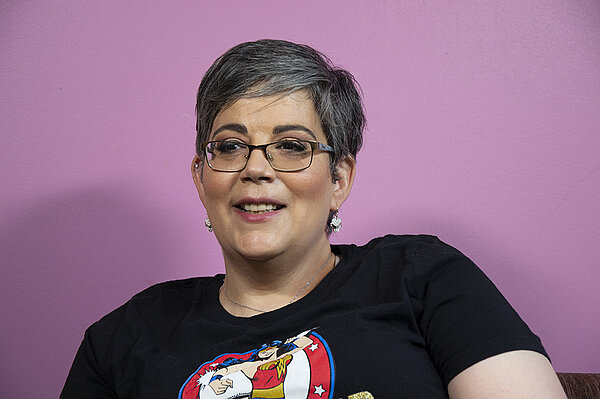 Surgery – a surprisingly easy part of the story
When it came to surgery, prior to any chemotherapy or radiation treatment, Anita and her surgeon discussed having a double or single mastectomy. Despite the indication that the cancer was only on one side, Anita opted for a double. Her surgeon informed her that she would have the Magseed® implanted to assist the surgery.
Before having the Magseed® placed – the Magseed® is a grain of rice-sized marker that is placed within a lesion prior to surgery – Anita was a bit anxious. She had had some uncomfortable experiences earlier when biopsies were performed. Fortunately, she was pleasantly surprised to find out that the procedure would just take a few minutes and was not painful at all. The marker stayed there for a few days until the surgery.
Anita
After the initial surgery, Anita's treatment journey began with a course of 16 chemotherapy sessions over six months. She would have good days and bad days, and on those bad days she would take two or three days off from work to recover and then go back. Most of her colleagues were incredibly supportive, but some made insensitive comments regarding losing weight and hair due to chemo.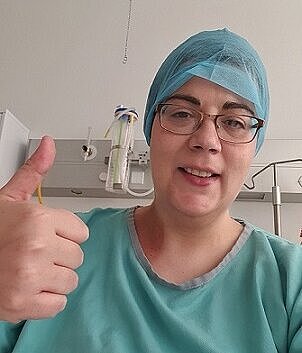 Despite such negative experiences, Anita has a unique ritual that helps keep her positive. The first time she went to her chemotherapy session, she happened to be wearing a superhero shirt. Her brother called randomly while she was there, noticed the shirt she was wearing and said, "You're a superhero, you're going to fight this and you're going to beat it." From then on, Anita has committed to wearing superhero shirts to her treatment sessions almost every time. The theme took off so well that family and friends started buying her shirts, hoodies, jewellery, anything with a superhero theme. And in the meantime, she has a collection of about 60 shirts!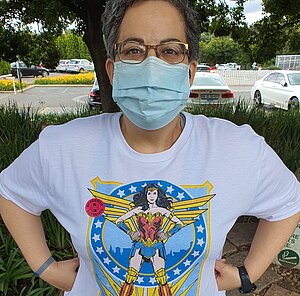 Anita
After her six months of chemotherapy, Anita underwent a double mastectomy (whereby the Magseed® was placed) followed by radiation. Within nearly a year span, she was given the all-clear. Shortly after that, she started experiencing some back pain, brushing it off as a pinched nerve or something similar, until finally she couldn't get into bed.
Unfortunately, Anita was then diagnosed at stage 4, with the cancer having started up again in her back. In addition to the lesions found on her vertebrae, they also found some on her liver and lungs. Thus began her next journey through various treatments, beginning with radiation on her back then another six months of chemotherapy. After that she had a PET scan done, which picked up lesions on her brain and sternum.
Originally with this second diagnosis, she didn't realise she had fractured two vertebrae. Because of these developments, her doctor wanted to put her in a wheelchair to help manage the discomfort and put less strain on the back. But this is not something Anita was ready to do. She would happily go to physical therapy to get support with movement and walking, but she thought if she made that step to using a wheelchair, that she would never get out of it. In the meantime, her fractures have healed, and she does what she can while her family supports her.
Coping, acceptance and supporting others
Focusing more on creating memories with her husband Philip and her family is much more important to Anita than receiving any gifts. It seems that her family agrees with this sentiment as they have rallied around her to support and spend time with one another. Anita's mother often cooks food, which is then delivered to her husband via her father.
Anita
Having a routine can be helpful for most people to live a healthy lifestyle, and Anita had her own unique routine while going through chemo treatment. She is a practicing member of the Catholic Church and every time before she would go to her treatment, she would attend church, saying that it helped her get in the right headspace. It allowed her to be in the best place to be able to encourage others, which was also a huge help to be able to take her mind off her struggles. "People thought I was helping others…they didn't realise that they were helping me."
What also helps Anita in her everyday life is to support others through their own cancer journey. She often communicates with others going through therapy via text message, because she says unfortunately, only someone who has gone through chemotherapy will understand what others are going through. She'll send little jokes or uplifting messages to help them not focus on the negative. She tells her friends, "We've got this. We take each day as it comes. And yes, we accept the good and the bad. But we've been given an extra day of life and we take it, and we take the opportunities that we are given, and we fight it with all we've got."
If it wasn't already clear enough that a support system is the key, Anita asserts it again when asked her advice for someone who may have been newly diagnosed. She says you need that support system, whether friends, family or both, because you're going to have days where simply getting out of bed feels like a mission. Her other advice would be to keep your head busy with other activities or hobbies. One of her therapeutic hobbies is fighting villains on her PlayStation and imagining that she's destroying the cancer cells in her body.
Overall, Anita stresses the importance of checking your body and breasts regularly and listening to your body. If something doesn't feel 'normal', go to the doctor sooner rather than later to get it checked out. Stay positive to keep a healthy mindset throughout the process and make sure you have that strong support system in your corner.
Anita