Jenna's story: it's more than endurance
Jenna shares her breast cancer journey, which began at the age of 17
It all started when Jenna felt a lump in her breast while she was playing with her necklace and studying for her grade 11 exams. She quickly phoned her mother because she felt that something was not right. Without any delay, they went to the local general practitioner for a clinical breast examination and was referred to a radiologist for further screening.
Because of her young age, the radiographer performed an ultrasound and an additional biopsy to find out what the lump was. It wasn't the best experience for Jenna, but she was glad that it was over. She was then referred to a breast specialist with the biopsy results, which was that it was a fibroadenoma, a benign breast tumour. It appeared to be a large, complicated mass and it was suggested to do the lumpectomy after her exams and December holidays.
Without worrying about what the new year would bring, she went on with a good break, returning for the surgery and anticipating an instant and smooth recovery. According to her doctor: "I don't know what that was, but it is out now". These words kept running in her head during her recovery on the hospital bed.
The following week on a Saturday, she had her post-operation check-up. It was then she was given a news every woman fears, especially a teenager – the lump is a malignant phyllodes tumour. "I didn't know what that meant. I probably had a slight idea what 'malignant' meant, but beyond that…", she says, "I remember crying, but not much more."
Still being a teenager, Jenna was devastated to hear that her diagnosis was a rare type of breast cancer, which required a mastectomy to make sure that there were no cells left, otherwise the cancer would grow back faster and more aggressively. "I had a week to start my final year of school and came to terms with the fact that I had a cancerous lump, and I was going to have surgery to remove my breasts. It was a complete shock. I didn't accept it at all. And I call that phase autopilot because you just put all the emotions off and do what needs to be done to get it done, to get through."
As a young woman who may one day want children, sexuality and breastfeeding were unfortunately not much of a topic during discussions of surgery and recovery. Even though this is a very important topic to many women, Jenna says that it was perhaps for the better that it wasn't discussed in detail because she was already dealing with so much. "I wasn't ready to know that this could potentially kill me, I was naive. At that particular time, I went through my autopilot of getting what I had to do. And only after my surgeries, after some reconstruction, did I emotionally start realising what actually happened." Her one unwavering constant through it all was the support from her mother, who attended all appointments and sessions with her.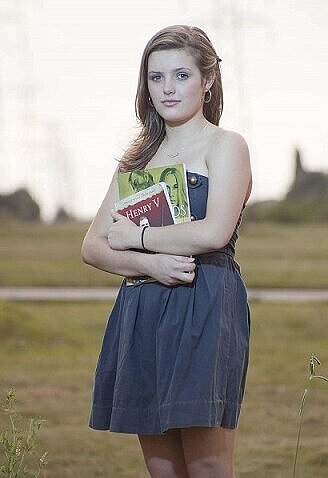 Jenna
Road to recovery and acceptance
After Jenna recovered from her surgery, she was able to return to school for her final year, but she was nervous of people knowing her story. She was not ready for rumours and being known as 'the cancer girl' or 'the girl with the fake boobs' after reconstruction. Only certain teachers and her close friends were told the truth, but everyone else was told the other half version because she wasn't ready for it.
Jenna was doing her best to reconnect with herself. As a high school girl, she would choose to hang out with friends or watch TV series, rather than attending a breast cancer support group. But when she was introduced to the Breast Health Foundation and their support group Bosom Buddies, her life changed completely. A friend of hers had connections to the foundations and convinced someone to come to the school to give a talk. Jenna was hesitant at first and she describes this meeting as 'a strange experience' because no one there knew what she had gone through and why someone from the foundation suddenly came to her school to educate her fellow pupils. This first meeting was the starting point that made Jenna realise she didn't have to hide her story or feel ashamed of what she had been through.
"These meetings opened my eyes to these strong, inspiring women who were proud of what they had been through, who were proud to have gone through their surgeries and their treatments and weren't ashamed to hide it." Meeting with the community of survivors made her realise that she didn't need to hide her story; instead, she embraced it. She recapitulates that it's fine to have a weak moment and to seek out support from those who have gone through similar experiences. Because of the support and strength from her mother and the community, she could stand on her feet again and create her new life path, knowing that she could lean on them.
Jenna
Turning point and turning lemons into lemonade
Her breast cancer diagnosis journey has changed her life, the way she views life and how to handle situations, as she realised that she got the best of a bad situation. "I am so lucky that I just had surgery and didn't need chemotherapy or radiation or that my cancer wasn't hormone-positive. I am absolutely grateful that I had experienced this interaction with cancer. It was mild and an easy journey compared to others."
Growing up as an adolescent, Jenna has a different type of childhood. She was forced to mature quickly, and her mindset outgrew her classmates. There was no more 'I wish I wasn't in maths' situations, as she had to deal with problems no teenager should have to. She was confronted with suddenly having to accept that her own body had to change and the sudden maturing that came with it, which seemed to separate her from her peers.
She did get a degree and got to explore the corporate world after graduating from high school, but she realised that she doesn't belong there. At some point, an opportunity came as a surprise and she was offered a job at the Breast Health Foundation. It has been 3 years now of working passionately as part of the Breast Health Foundation team. "Without my breast cancer diagnosis, I wouldn't have a passion – a job that feeds my soul and enables me to support fellow breast cancer survivors."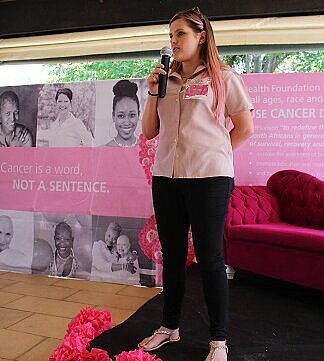 She recalls herself being an introverted, withdrawn girl that would always take a step back and question "Are you ready for that one?". Nine years have passed and she has found the courage to stand in front of crowds and speak openly about her survivorship journey while raising awareness for breast cancer. "I relived my journey and emotionally dealt with it better after every speech and every public appearance. After every time you have to tell your story, you emotionally deal with it a little bit more and feel stronger afterwards. You kind of have to remind yourself: 'Oh jeez, I did that. Good job!'"
Two years after her diagnosis Jenna climbed Mount Kilimanjaro with a team of breast cancer survivors to bring attention to breast cancer awareness and raise funds for the Breast Health Foundation. "I climbed Kilimanjaro because I was physically able to, I climbed Kilimanjaro for all the breast cancer warriors on treatment, for those who had passed, for those who couldn't."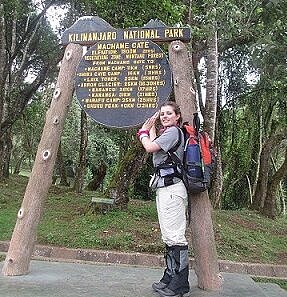 As a young survivor herself, she hopes to empower women, especially the young ladies, to take control of their health, educate themselves about women's physiological health and do breast self-examination. Things like getting the HPV vaccine, going for regular gynaecological visits and doing breast self-examinations are what Jenna always accentuates. She encourages that if you feel something doesn't seem right, don't be shy to seek support because no one should face the unknown alone. Throughout her journey, she had a concrete support structure. From her mother, her family, to the people she had never met before, they helped get her get where she is today, where she is supporting others in their journeys.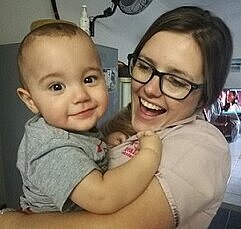 Jenna
Watch the entire Video with Jenna here