Headquarters
Sysmex Group Companies
Select your local website
Watmind SARS-CoV-2 antigen immunofluorescence system
Rapid and reliable antigen immunofluorescence system
Higher analytical performance compared to conventional antigen rapid diagnostic tests
Portable instrument with built-in printer
User-friendly and fast operation antigen rapid diagnostic tests
Standardised and traceable results in 10 minutes
Prequalified calibration
QC material available
Perform the rapid test assay with an instrument and get objective, qualitative results within minutes.
Patient information and results can be stored, reviewed, printed, sent or transferred to LIS.
More details
Fast and reliable point-of-care solution
The system consists of a test cartridge, instrument and accessories such as sample collection and QC material.
Following the collection of the respiratory specimen, it is applied to the test strip and after the incubation time, results are read via an immunofluorescence instrument.
The use of such a reader standardises and simplifies interpretation of test results between different operators and provides traceable results for documentation.
The easy-to-use and portable point-of-care instrument is based on Europium Fluorescence Technology, providing higher sensitivity and delivering printable results in 10 minutes. The reader can be also connected to an external IT device.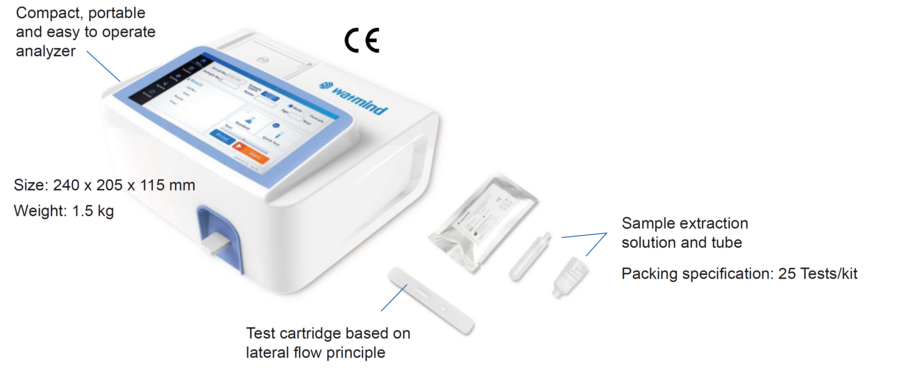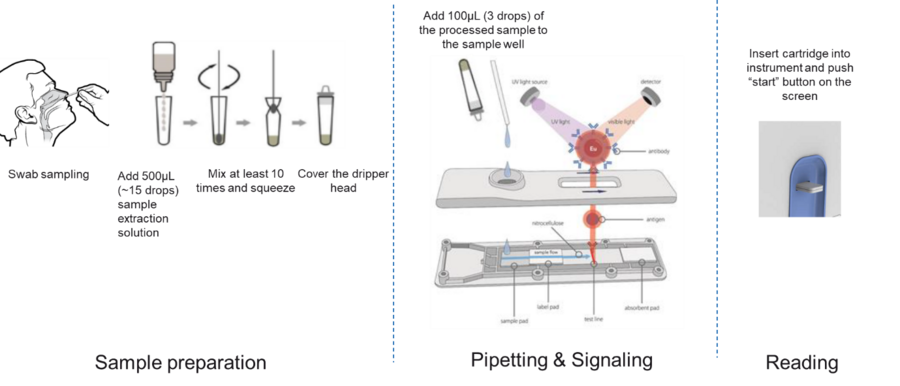 Technical specifications
Instrument
| | |
| --- | --- |
| Technology | Immunofluorescence analyser |
| Instrument size | 240*205*115 mm |
| Instrument weight | 1.5 kg |
| Instrument features | 18 cm touch screen, printer, lot ID chip |
| Time to result | 10 minutes |
| Interfaces | USB, COM, Internet (LIS), Wi-Fi |
| Power supply | AC100-240V, 50/60Hz |
Test cassette
| | |
| --- | --- |
| Technology | Lateral flow sandwich immunoassay |
| Sample type | Nasopharyngeal and oropharyngeal swab |
| Buffer volume | 500 µl (15 drops)/ test |
| Sample volume | 100 µl (3 drops)/ test |
| Sensitivity | 90.8% (RT-PCR CT value ≤ 36) |
| Specificity | 99.1% |
| Packaging specification | 25 tests/ kit |
for more details please refer to the IFU
Contact us
You have a question and would like to get in touch with our experts? We look forward to receiving your enquiry.
Bornbarch 1
22848 Norderstedt
Germany
Documents
Product documents
Regulatory documents
Regulatory documents, such as Instructions for Use, can be accessed with a valid My Sysmex login:
Go to My Sysmex
Explore more
Dear customer,
The following list of research study publications is provided exclusively for scientific purposes. By clicking "Confirm" below, you accept the following terms:

- The studies may relate to the diagnostic use of the analytical parameters offered by Sysmex instruments. The diagnostic use is not validated by Sysmex and is therefore not in the scope of the Intended Purpose of the instruments. Details on the Intended Use can be found in the Sysmex Instructions For Use.
- Summaries of the study results are provided for convenience only and are not intended to convey any views of Sysmex on the study or the products used therein.
- Sysmex cannot be held liable for the accuracy of the study results or the summaries of the study results.
- The information provided in the literature list is intended only for health care professionals.
This site is for 'Professionals' only. You are not authorised to view this page.