Scientific calendar March 2022
Colorectal cancer: early diagnosis and accurate staging
How can accurate diagnosis and staging improve colorectal cancer patient outcome?
Screening by using a non-invasive FOB test allows detecting the disease at an early and curable stage while accurate staging with a molecular diagnostic assay provides a more reliable basis for therapy decisions, thus improving survival rates and clinical outcome.
Using X-ray and CT-imaging for screening and diagnostic purposes
Performing endoscopy examinations annually and taking biopsies for histological analysis
Congratulations!
That's the correct answer!
Sorry! That´s not completely correct!
Please try again
Sorry! That's not the correct answer!
Please try again
Notice
Please select at least one answer
Colorectal cancer (CRC) is the third most common cancer in the world and one of the leading causes of cancer-related deaths. It affects men and women and is the second leading cancer killer in Europe [1]. In contrast to other cancers, CRC screening via non-invasive FOB tests represents an easy and convenient way of early detection and therefore the opportunity to improve patient outcomes.
CRC develops usually slowly over a decade and starts basically as precancerous polyps. Since CRC including its precursors can cause intestinal bleeding, screening by using faecal immunological tests (FITs) for the detection of haemoglobin in stool helps with its early detection. FIT is used as a triage test, meaning a positive result might lead to invasive endoscopy investigations (e.g., colonoscopy) as a next step. Considering both the positivity rate and colonoscopy capacities, the FIT cut-off for positivity can be adjusted to meet screening goals.
In the EU, international cooperative projects contributed to the development of a common framework for the implementation of population-based organised CRC screening programmes. By 2016, such organised programmes had been established or piloted in 22 of the 28 EU Member States. Two EU countries (Greece and Latvia) introduced opportunistic screening, and Germany started a population-based programme in 2019 [2].
FOB Gold, the unique solution for FIT offered by Sysmex, is used by millions of asymptomatic and symptomatic patients and shows high sensitivity and specificity [3, 4]. Data from ongoing screening programmes using FOB Gold shows that 75% of the CRC cases were early stages I and II and around 50% of FOB Gold positives were advanced adenomas [5, 6].
If CRC is confirmed, the patient will undergo surgery removing the tumour and the lymph nodes. The lymph node status is the most important prognostic factor and staging parameter in managing CRC. The current method to analyse lymph nodes is postoperative histopathology with one-section H&E: The lymph node is only analysed on one level, leaving a large amount of tissue not analysed. As a result, metastases may remain undetected, leading to false-negative results and a higher risk of understaging and in turn undertreatment. By analysing the entire lymph node, OSNA provides the confidence that you do not overlook any metastases. You can deliver accurate staging of the patients and a more reliable basis for your therapy decisions. Lymph node analysis of pN0 patients with OSNA yielded an upstaging rate of up to 25% compared with the standard histological method [7], and studies have shown this allows adjusting the affected patients' management [8–10].
OSNA – one step nucleic acid amplification – is an automated molecular diagnostic assay that analyses the entire lymph node tissue. The reaction is based on rapid nucleic acid amplification technology (RT-LAMP) to quantify cytokeratin 19 (CK19) mRNA expression. CK19 is an epithelial cell marker and is normally not present in lymph node tissue. The expression rate of CK19 mRNA correlates with the size of the metastatic foci.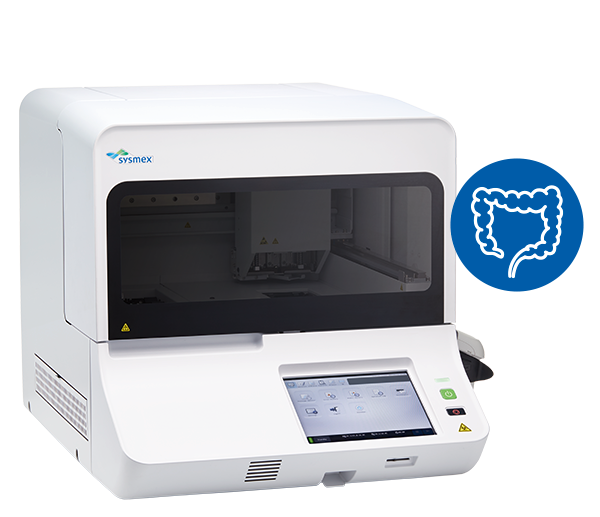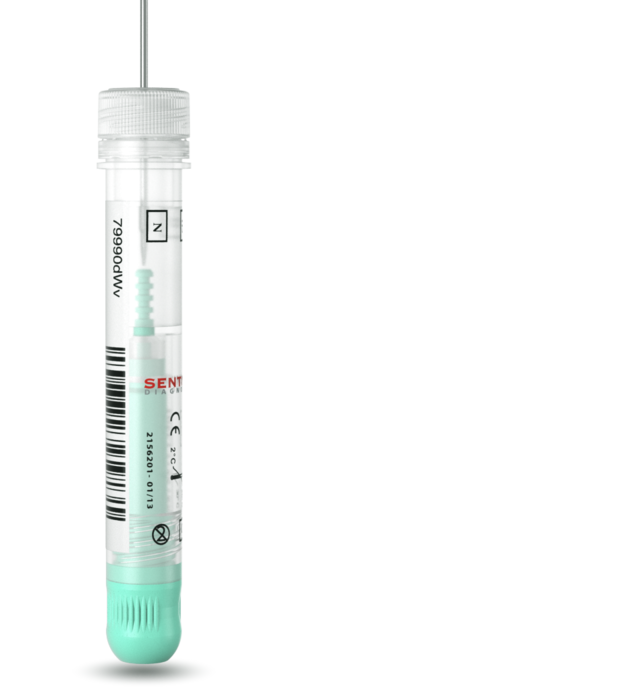 Colorectal cancer: essential facts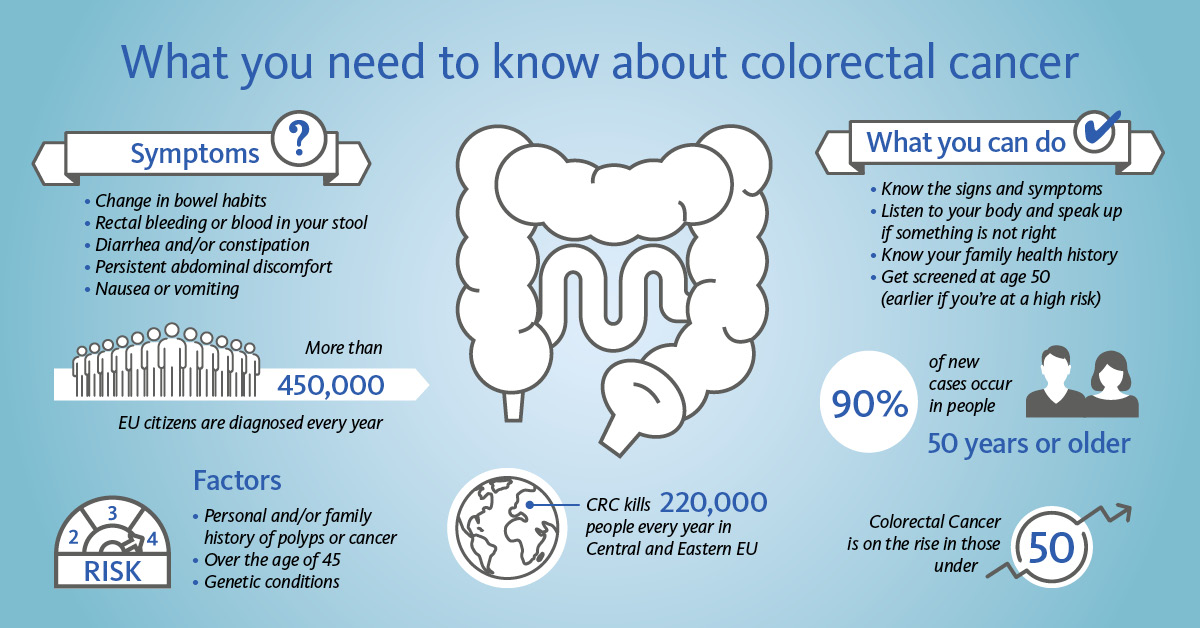 [1] WHO (2021): https://gco.iarc.fr/today/data/factsheets/cancers/10_8_9-Colorectum-fact-sheet.pdf
[2] IARC Handbooks of Cancer Prevention (2019): Volume 17.
[3] Brenner H et al. (2017): Selecting a Cut-off for Colorectal Cancer Screening With a Fecal Immunochemical Test. Clinical and Translational Gastroenterology 8(8): e111.
[4] Niedermaier T et al. (2020): Sensitivity of fecal immunochemical test for colorectal cancer detection differs according to stage and location. Clin Gastroenterol Hepatol. 18(13): 2920–2928.e6.
[5] Solé Llop ME et al. (2018): Colorectal cancer screening programme in Aragon (Spain): preliminary results. Gaceta Sanitaria 32(6): 559–562.
[6] Erasmus MC Rotterdam – NKI/Antoni van Leeuwenhoek: CRC SCREENING PROGRAMME Monitor 2014–2020. National Institute for Public Health and the Environment (RIVM).
[7] Croner RS et al. (2014): Molecular staging of lymph node-negative colon carcinomas by one-step nucleic acid amplification (OSNA) results in upstaging of a quarter of patients in a prospective, European, multicentre study. Br J Cancer. May 13; 110(10): 2544–2550.
[8] Hiyoshi Y et al. (2020): The advantage of one-step nucleic acid amplification for the diagnosis of lymph node metastasis in colorectal cancer patients. Ann Gastroenterol Surg 5: 60–66.
[9] Itabashi M et al. (2020): Lymph Node Positivity in One-Step Nucleic Acid Amplification is a Prognostic Factor for Postoperative Cancer Recurrence in Patients with Stage II Colorectal Cancer: A Prospective, Multicenter Study. Ann Surg Oncol 27: 1077–1083.
[10] Archilla I et al. (2021): Lymph Node Tumor Burden Correlates With Tumor Budding and Poorly Differentiated Clusters: A New Prognostic Factor in Colorectal Carcinoma? Clin Transl Gastroenterol. 12(3): 1–10.