Headquarters
Sysmex Group Companies
Select your local website
HISCL-5000
Challenges are welcome. When you are confident.
Fully automated random-access immunochemistry analyser
Results in 17 minutes from the start of testing
Up to 200 tests per hour
Continuous loading for longer walk-away time
Effective prevention of carry-over
High sensitivity and specificity of the results
HISCL-5000 provides medium- and high-throughput clinical laboratories with a diagnostic solution that meets the growing demand for workflow consolidation and testing efficiency in the evolving pandemic situation.
HISCL-5000 is easy to use and employs a technology that uses the CLEIA (chemiluminescent enzyme immunoassay) principle, which is trusted by customers across the globe. With results being provided consistently in high quality you can have confidence in them.
More details
What makes HISCL-5000 so strong?
Smart technology means excellent results
The CDP-Star® chemiluminescent substrate provides a highly sensitive measurement.
High specificity is achieved by using the bound-and-free (B/F) separation washing procedure.
Short turnaround times are enabled by the rapid formation of immune complexes due to a temperature of 42°C throughout the entire process.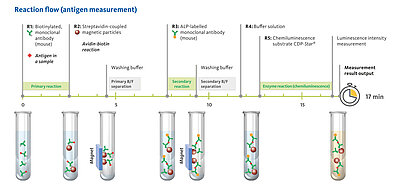 Fast processing to cope with high workloads
The short time to results allows faster report generation, enabling timely patient diagnosis and treatment.
Convenient STAT port position for a speedy analysis of your urgent samples
Intuitive operation for an enjoyable user experience
The user-friendly interface displays large icons and makes it easy to access information for your daily routine.
Efficient reagent management system based on RFID
Uninterrupted workflow – exchange reagents and consumables or perform calibration on the running system.
A robust device giving you peace of mind
Proven robustness has been demonstrated across the Asian market for years. The system will reliably support your laboratory for many days to come.
Reliable anti-carry-over system through single-use pipette tips and reaction cuvettes in combination with a membrane filter that cleans the nozzle each time it dispenses
The HISCL-5000 needs very little attention and is mostly self-maintaining, so there's no need for daily user maintenance.

Technical specifications
Measurement principle
chemiluminescence enzyme immunoassay (CLEIA)
Detecting element
photoelectron multiplier; wide range with optical filter
Throughput
200 tests per hour
Time to first result
17 minutes (time from sample aspiration to result display)
Sampler capacity
up to 100 samples in 20 racks
Number of STAT positions
1 sample
Required sample volume
10 – 30 μL
Sample containers
Sample tube: outer diameter 13 – 16 mm, height 75 – 100 mm
Sample cup: 4-mL conical cup
Sample dispensation
disposable tip, sample arm wiped on filter
Reagent identification
RFID, barcode
Reagent containers
cartridge system with automatic opening/closing
Reagent supply
continuous loading system
Data storage
100,000 sample results (maximum)
Quality control
select L-J (chart) or X-bar (chart)
Display (user interface)
21-inch touch screen
Interface (external output)
RS232C, LAN
Printing system
external printer
Options
drainage tank, indicator light
Dimensions / weight
W x H x D [mm] / [kg]
Main unit including sampler
approx. 1,725 x 1,300 x 840 / approx. 490
Contact
Bornbarch 1
22848 Norderstedt
Germany
Explore more