Headquarters
Sysmex Group Companies
Select your local website
QuantCenter
QuantCenter
Computer-supported classification of different tissue types
Analyse and quantify your IHC and fluorescent stainings: reproducibly and objectively
Adapt QuantCenter to your requirements
Benefit from the integrated report function and simple data export
A clear benefit of digital slides is the ability to conduct computer-aided image analyses of entire tissue sections. The results calculated using software algorithms are objective, reliable and reproducible – which helps to make diagnosis easier.
QuantCenter is a repository of high-performance image analysis tools for the quantification of tissue structures, IHC staining and CISH and FISH samples.
You can call up the modules from CaseViewer and, in some cases, queue them to generate an efficient image analysis. For example, you could use the modules to analyse a specific nuclear staining in a specific tissue type on a digital slide.
The modules feature a high-performance reporting function. Alternatively, the results can be exported.
Take advantage of the opportunities of digital pathology to enable thorough and efficient analysis of your IHC or fluorescence-stained tissue sections.
More details
PatternQuant: Tissue segmentation and classification
Identification, segmentation and quantification of different tissue structures
Detailed analysis of selected tissue types with further QuantCenter modules
Batch processing of numerous digitized slides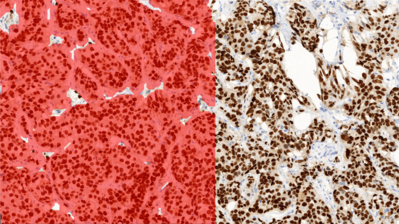 HistoQuant: Histological image analysis
Separation of up to 10 different levels, applicable to any staining
Measurement of morphological and densitometric characteristics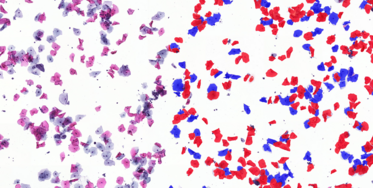 NuclearQuant: Automatic quantification of IHC nucleus staining
Automatic evaluation e.g. of ER, PR, Ki67 and P53 staining
Detection of cell nuclei and measurement of colour intensity in the chromogenic channel by using colour deconvolution
Subdivision of the cell nuclei into negative to highly positive
IVD-certified for oestrogen receptor and progesterone receptor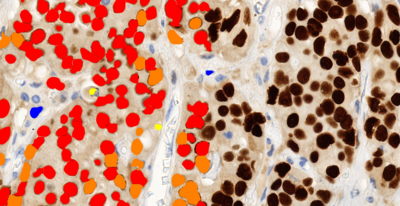 MembraneQuant: Automatic quantification of IHC membrane staining
Cell membrane detected based on colour deconvolution and measurement of the chromogenic channels' colour intensity
Subdivision of the detected membranes into negative to highly positive
IVD-certified for HER2 quantification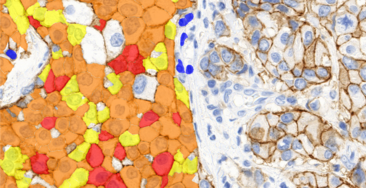 CellQuant: Immunohistochemical counting of cell nuclei, cytoplasm and membranes
Differentiation of cell compartments though allocation to "immunostain" or "counterstain"
Can be used for both BF and FL staining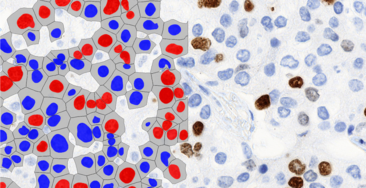 DensitoQuant: Measurement of IHC stain intensity
Fast and effective tool to quantify the intensity of immune staining
Suitable for TMA evaluations
Measures the stain density of an entire section in just a few minutes
CISHQuant / CISH-RNA: Analysis of chromogenic in-situ hybridisation
Identification of CISH signals using the spot detection function (colour intensity, size, contrast)
CISH-RNA to prove viral RNA in the infected cell nucleus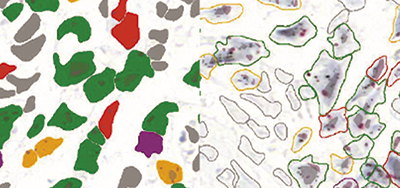 FISHQuant: Analysis of FISH samples
Automatic or user-defined nuclei segmentation and threshold definition for FISH signals
Specification of numerical aberrations in the stained genes, as well as classification of the nuclei into "normal", "abnormal" and "artefact"
Suitable for tissue samples and samples in suspension
Intuitive determination of suitable probe types for structural aberrations, numerical deviations, locus-specific analyses or based on your own criteria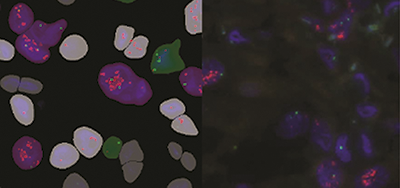 Contact us
You have a question and would like to get in touch with our experts? We look forward to receiving your enquiry.
Bornbarch 1
22848 Norderstedt
Germany
Explore more